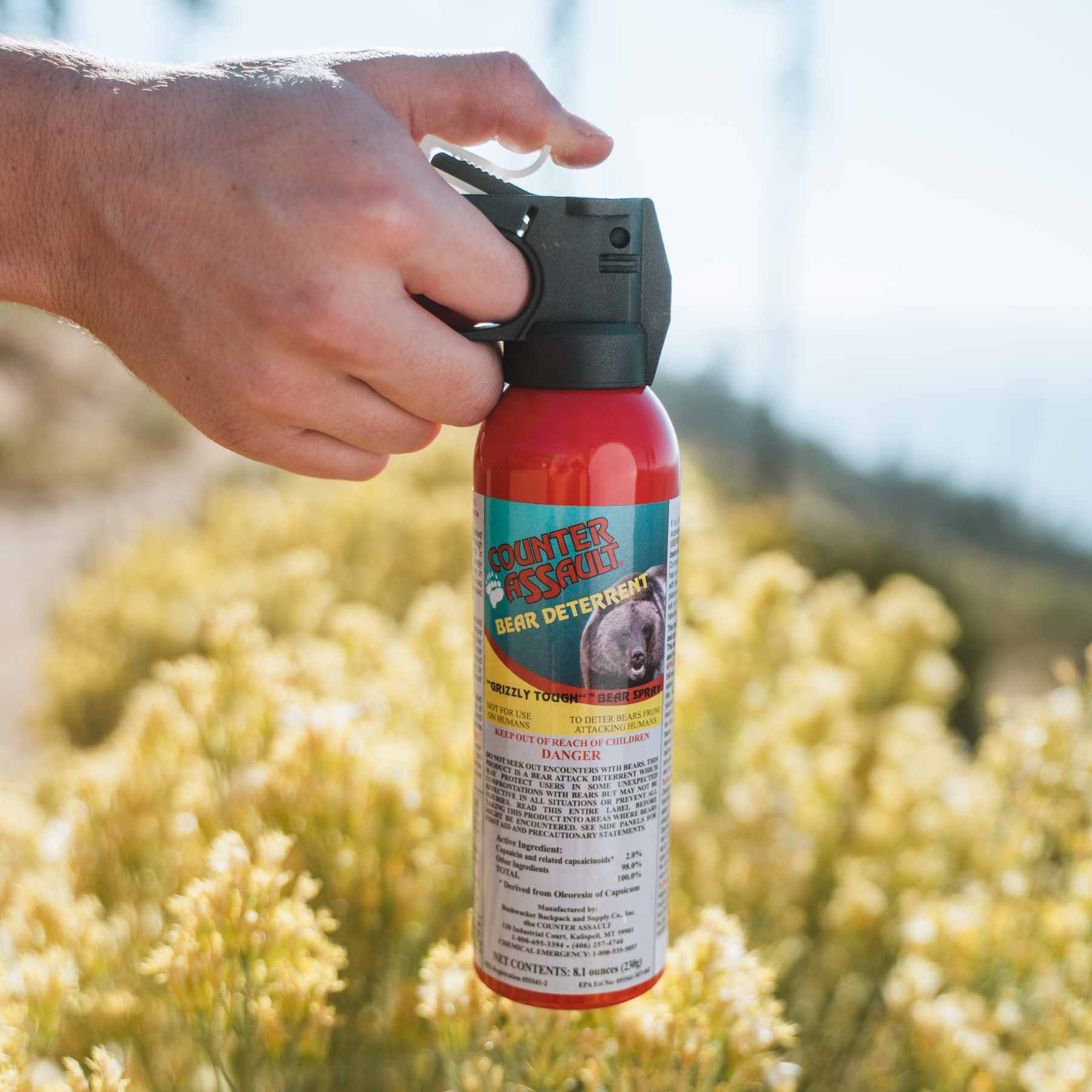 32-Foot Bear Spray (8.1 oz.) with Holster - 2 Cans
Twin value pack of 8.1 oz. Bear Deterrent with Belt Holsters. The 8.1 oz. Bear Deterrent reaches a 32 foot distance and features a 7 second spray duration, an optimal combination of spray distance and time. This powerful bear spray is designed to deter a bear attack with a powerful, atomized blast of pepper spray with 2% capsaicin and related capsaicinoids. Includes two sturdy nylon belt holsters that attach easily to belts and packs.
Twin 8.1 oz. Value Pack – Far-reaching bear deterrent with 32 feet of spray distance and 7 seconds of spray time.
Concentrated Pepper Spray – High-volume, highly concentrated blast of 2% capsaicin and related capsaicinoids, the maximum allowed by law.
1st EPA-Registered Bear Spray – Meets the requirements of the American Innovation and Manufacturing (AIM) Act.
Designed to Keep you Safe in the Outdoors – A perfect companion for hiking, camping, backpacking, and hunting.
Works on All Bear Species – Developed to deter attacks from grizzly bears, brown bears, black bears, and polar bears.
Made in Montana – Created by a grizzly encounter survivor in conjunction with the University of Montana.
Two Belt Holsters – Included sturdy nylon belt holsters attach easily to belts and packs.
8.1 oz. Canister Dimensions: 8.5" x 2" 8.1 oz. Canister Weight: .68 lbs
60-Day Satisfaction Guarantee
I bought and carried for multiple hiking trips/camping. While I haven't had to use I have carried on belt so its was easy to access but also wanted in my way. I reviewed the safety instructions and removed and replaced the safety clip a couple of times to insure I knew how to arm the bear spray. I am ready to use but also hope I never have to use. –Anonymous
Double your Protection
Maximum strength bear spray made in Montana.
KEEP OUT OF REACH OF CHILDREN

PRECAUTIONARY STATEMENTS
Hazards to Humans and Domestic Animals

DANGER:
May cause irreversible eye damage if sprayed in the eye at close range. Contact through touching or rubbing eyes may result in substantial but temporary eye injury. Strongly irritating to nose and skin. Do not get in eyes, on skin, or on clothing. Wash thoroughly with soap and water after handling. Remove contaminated clothing and wash clothing before reuse.

PHYSICAL OR CHEMICAL HAZARDS:
Extremely flammable. Contents under pressure. Keep away from fire, sparks, and heated surfaces. Do not puncture or incinerate container. Exposure to temperatures above 130°F may cause bursting.

Disclaimer: To the extent allowable by law, Counter Assault® shall not be liable for damage, injury, loss, direct or consequential including death arising out of the use of, or inability to use this product.

Do not seek out encounters with bears. This product is a bear attack deterrent which may protect users in some unexpected confrontations with bears but may not be effective in all situations or prevent all injuries. Read this entire label before taking this product into areas where bears might be encountered.